Traffic technology can do a lot to improve public transit and turn it into a smoother and more attractive option for travelers.
With innovative new technology and creative use of existing technology, TNL develops public transport solutions all over the world.
Corridor optimization for smoother traffic flow
Dynamic, multi-mode traffic flow optimization will achieve astonishing results. The Connected Corridor Proof of Concept (PoC) in San Francisco improved the traffic flow at the many intersections on 3rd Street. This busy corridor is home to a sports stadium and a large hospital. In addition to light rail trains, passenger cars, emergency vehicles, trucks and buses, the street is also used by many pedestrians and cyclists. We used a wholly new concept to attain the optimal situation based on real-time and projected vehicle and pedestrian locations. This allowed us to optimize traffic based on the mode priority defined by San Francisco, and to dynamically set all the traffic lights, harmonized between the intersections. The optimizations were based on the outcome of 20,000 scenario evaluations per intersection per second. This ensures the best adjustment between light rail trains, traffic lights and other traffic. The total service is defined consisting of all relevant processes, roles and responsibilities, technologies and managerial aspects. The technology makes sure the city keeps full managerial control.
The service was tested at ten intersections. The results were described by the San Francisco Municipal Transportation Agency "a dramatic improvement for the light rail vehicles without observed significant impacts on other modes and approaches." The waiting times at red lights for the light rail trains were over 72% shorter while the reduction of acceleration of buses and trucks resulted in over 26% reduction of CO2 emissions. The solution will work with all NTCIP-enabled traffic signal controllers in the USA.

Punctual and comfortable journeys by public transport
The municipal authorities of Oslo, the capital of Norway, aim to make their city a safer and greener place by reducing car traffic by 30% by 2030. Even today, most trips through the city are already made using public transport. Prioritizing public transport even more is key to the city's ambitions. Every day, 2,000 busses and trams traverse the city of Oslo and its surrounding region, passing more than 400 intersections controlled by traffic lights.
The Public Transport Priority System, that was designed and implemented by TNL, will continuously monitor the position of every one of these vehicles in relation to their timetables, determine each vehicle's priority, and adjust the traffic lights accordingly. The system will take other traffic into account as well, preventing unwanted delays as much as possible. As a result, public transport will move more easily through the city and passengers will experience punctual, comfortable journeys. Public transport in the greater Oslo region will provide an even more dependable and attractive alternative to traveling by car.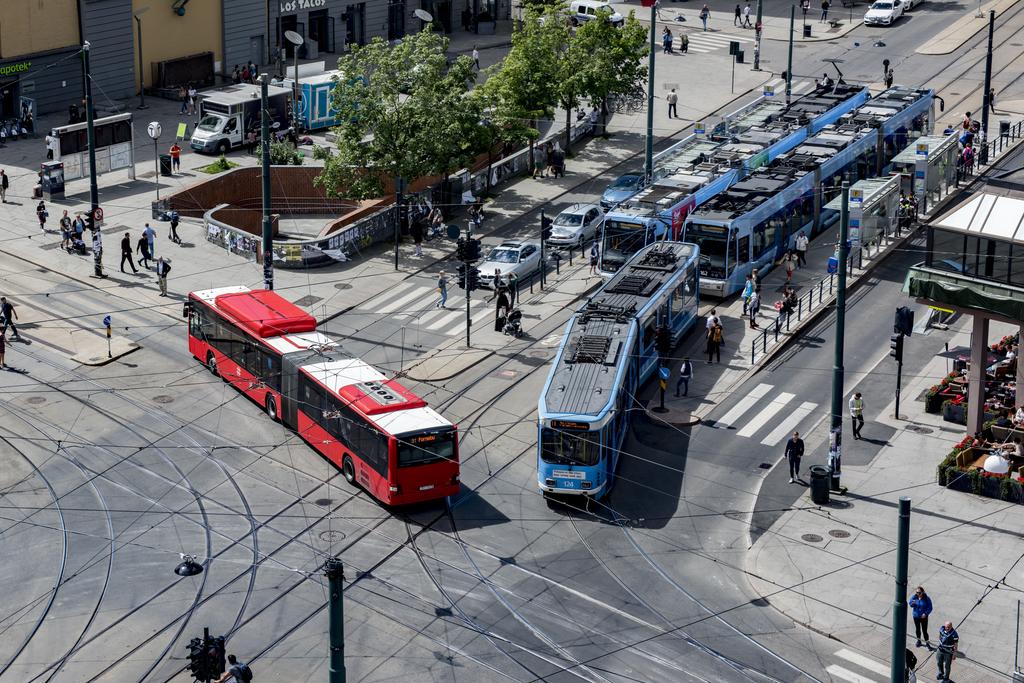 Easy ticket payment for public transport
How can we make public transport easier for travellers? One way is to make paying for the trip as simple as possible. In the Netherlands, TNL is the provider of the payment system which provides travels with one card for all modes and providers of all public transit. Now, we are creating a solution that makes paying for public transport journeys even easier for passengers. Starting between now and the end of 2023, public transport users in the Netherlands will be able to check in and out using their debit card, credit card or mobile phone. All Dutch public transport companies will adopt this new payment method, making it the first payment solution in the world that is operable between different transit companies with different travel products such as seasonal tickets and student travel passes. All that passengers need is a valid bank card or credit card. The system will also work with a bank or credit card on a smartphone. All security measures have been taken into account and it is PSA-compliant, so both bank and personal information is secured. Best of all, the system will also work for international travellers visiting the Netherlands, without requiring them to purchase tickets or register an account.
Bus priority at events
The Swedish city of Gävle plays an important regional role for events: it is home to an ice hockey stadium, a football stadium, a racecourse and a large events center. At peak moments it has proved to be a real challenge to ensure the smooth flow of traffic to and from the events area. The access road to the area is a two-way roadway with a dedicated bus lane in one direction. The single direction of traffic for buses and the large volume of vehicles has led too often to delays and congestion. The solution? A dynamic reversible bus lane which can operate fully automatically.
The reversible bus lane in Gävle has been in operation since November 2019.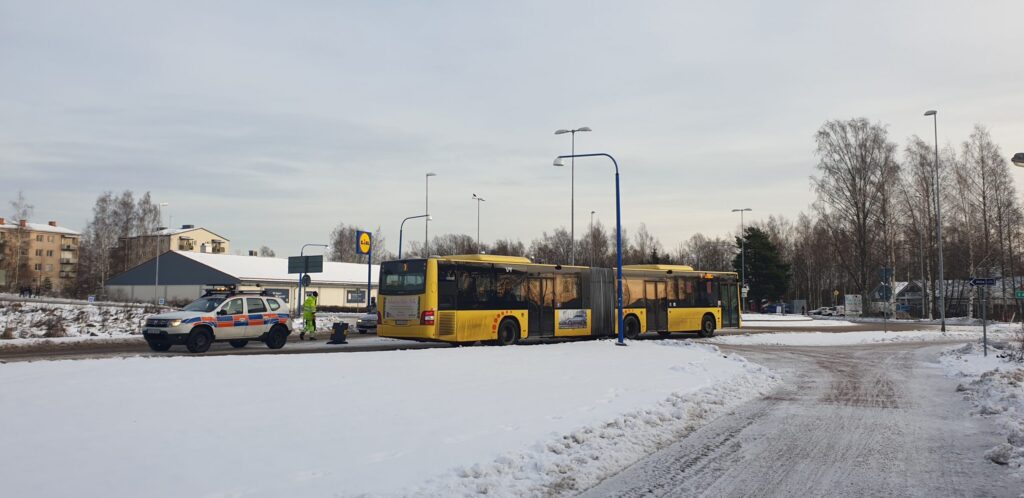 Public Transit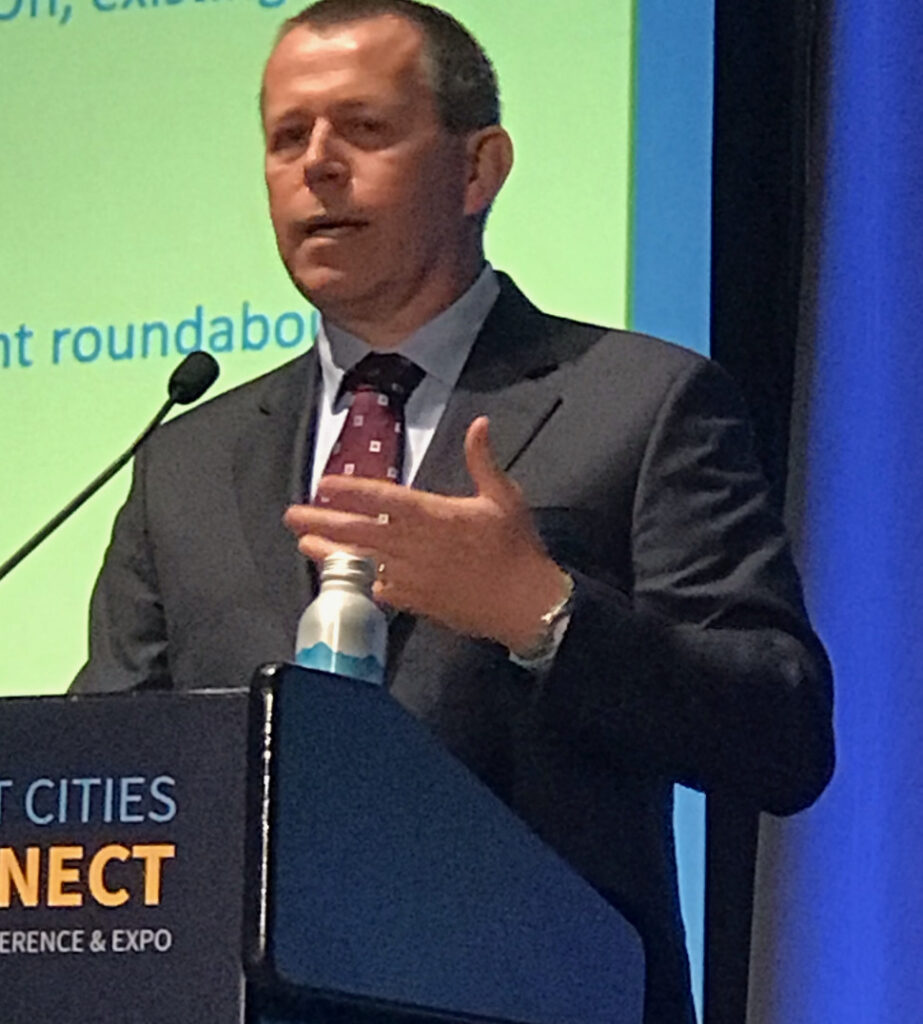 Contact – solution/expertise