Automatisering of civil infrastructure
The Dutch Ministry of Infrastructure and Water Management is responsible for a large number of civil infrastructures in the Netherlands: circa 20 traffic tunnels, 1000 bridges and 140 lock complexes. These infrastructures are used by an enormous amount of traffic on a daily basis. They therefore have to meet high safety standards. The ministry standardizes the demands for civil infrastructures in national standards (national standard for tunnels = LTS, national standard for bridges and locks = LBS).
Many of the requirements are realized by the technical installations of the infrastructures – they are in place to guarantee safe usage. Due to the high level of security demands and the fact that most civil infrastructures have to be able to be controlled remotely, the necessary technology is complex and diverse. The required IT systems of civil infrastructures are increasingly more reminiscent of full-fledged data centers.
Complex systems
It is a great challenge to create systems of such complexity and diversity and to be able to show that they meet the set demands. But even more challenging is the required lifecycle of twenty to thirty years – a long period within which the systems should be able to grow and evolve in order to keep up with any new demands! It is therefore not surprising that parties such as the Dutch Ministry of Infrastructure and Water Management look for ways to standardize the technical systems for civil engineering and, if possible, even centralize them. An example is the current initiative for the development of reusable building blocks for different parts of the system.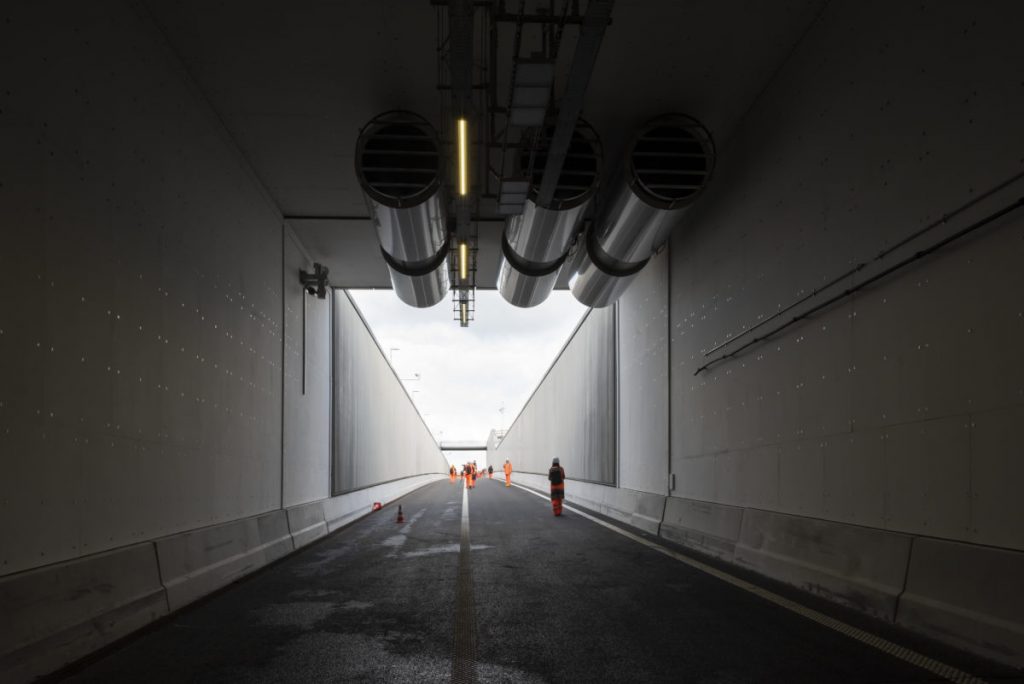 Integral approach
The great challenges in terms of design and development, lifecycle and evolution require an integral and conceptual approach for technical installations in civil infrastructures. All these aspects have to be taken into consideration for the entire system throughout the design process, so that the final concept will optimally support all aspects. In terms of evolution during its lifecycle, this is mostly concerned with, for example, the possibility to replace or renew parts of the system at various points in time, without affecting the integral function of the system.
The integral approach requires a very broad knowledge of various technologies, network infrastructures, IT and OT orientated protocols, control systems, platforms, centralized and decentralized applications, sensors and actuators. This approach, in addition, requires the flexibility and expertise to adjust and mold the combination of commercially available systems and custom-made subsystems into one system that verifiably meets the set demands. TNL has experience with all of these technical aspects. Moreover, we have lots of experience with assignments in which we take on the responsibility for the entire system as technology and system integrator. We can take on the responsibility for the operational system for an indefinite period of time.
Engineering approach
In addition to our knowledge and experience, it is crucial to be able to follow a structured engineering approach during the design process (systems engineering). Only then it is possible to ensure that specific aspects are represented in the design throughout the system. TNL has more than sufficient experience with structured systems engineering. We do not only apply this when designing parts of the system for civil infrastructure, but also when developing complex industrial devices, such as electron microscopes and analysis equipment for quality control in microprocessors.
Flexible SCADA system
Control, security and operation are crucial when it comes to the automation of civil infrastructures. TNL has developed a flexible SCADA platform that adheres to the national standards of Rijkswaterstaat. This system matches the aforementioned integral approach perfectly. It is operational in the new Gaasperdammertunnel and will also be implemented in the Maasdeltatunnel as well as the Hollandtunnel.
Related products and cases
Let's talk about your automation challenge
and find out how we can help you